Oscars invests in new home as new financial services arm is launched
For almost a decade Oscars expertise and knowledge of the local property market has been used to find the perfect home for thousands of people across Hull and East Yorkshire.
Now, the eight-strong team at letting agent and property management specialists have used that knowledge to find a perfect new home for themselves – moving from small offices in Willerby to impressive new facilities in Anlaby Common as the business continues to expand.
The locally-owned family firm has made a substantial investment into the new base as plans are afoot to add new services alongside the successful letting business.
A specialist financial services team is being put in place for its customers looking to make the most of their property investments, or moving from renting to having a mortgage for the first time.
Move marks 'exciting times' for business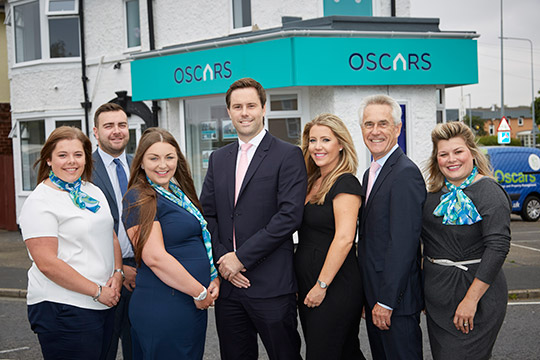 "These are really exciting times for the business as we have grown steadily over the past nine years but we're now in a really strong position for further growth," said Managing Director Alisdair Bott-Francis.
"Being solely focussed on the lettings market has enabled us to provide a first-class service for our landlords and tenants, and that has been the foundation of where we are today, enabling us to expand our services and invest back into the business.
"The next step is to expand and improve the services we offer to clients going forward, creating a financial services team within the next three months to ensure finances, mortgage arrangements and insurances are all working for landlords, and tenants if they are looking to buy, as much as possible.
"From a tenant's, point of view, we want to be able to hold their hand through the whole process from renting to buying.
"We have many tenants who we have built up relationships with and who trust us, and we want to help guide them through that process. This is something which is completely new to the business and it is exciting.
"Similarly, we have hundreds of landlords on our books who have never had a financial review of their property portfolio and how it works for them. We can use our expertise to shop around as a fully independent advice service for things such as buy-to-let mortgages and buildings and contents insurance."
Oscars boasts almost 40 years' experience in local property market
Oscars was established in 2008 and the team of eight staff members has almost 40 years of combined experience in the letting and property management market.
Whether a tenant is looking for a new property to rent, or a landlord has a string of properties needing a reliable and efficient property management firm, Oscars focuses on taking the stress out of the whole experience.
Mr Bott-Francis said the new premises are easily accessible for all customers and the base provides a greater platform for growth.
"We were keen to get some presence on one of the main arterial routes into the city centre which positions us well for both tenants and landlords," he said.
"We have a private car parking area, which is important as it allows people to come and see us with ease, and we wanted to base ourselves in the heart of west Hull even though we cover right across Hull and the East Riding in terms of the properties we manage.
"There are a lot of rental properties around here and the rents seem to be holding very well at present.
"Of course, lettings are the lifeblood of the business and, while we are looking to expand services we can provide to our clients, that's the dominant force.
"We have experienced growth for the past three or four years while the sales market has been slower. There are many benefits to letting, including a great return on investment that sits way above any bank account and you have something that's appreciating in capital."
Quality customer service remains main focus as Oscars has grown
Mr Bott-Francis said reinvesting in the business over the past nine years has ensured it has gone from strength-to-strength, focusing on quality at all times in the service they provide.
"Everything which has come into the business to date we have reinvested and always tried to operate so that we are here for the long term," he said.
"We have built a business that offers a credible estate agency in a world where I think the industry gets a lot of stick.
"Estate agents are often labelled and we have always tried to be upfront, honest and offer as good a service as we possibly can.
"We have never set our stall out to become the biggest agent in town. We have always concentrated on becoming the best. The bulk of what we have done over the past nine years has been recommendation-based."